Hello everyone!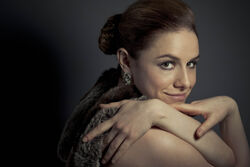 We are so excited to have the opportunity to bring you a Q&A with the voice of The Inquisitor - Alix Wilton Regan. Along with her work on Inquisition, Alix has also performed voice-overs in Dragon Age:Origins and Awakenings. You might also recognize her voice in Mass Effect 3 as Samantha Traynor and Lady Calista in The Last Story for Nintendo. She is an award winning actress, starring in Television, Theater and several Feature Films including The Wolfman and Castles Made of Sand.

We are currently gathering questions from the wikia community to present to her. You can ask her about her work on the games, her background in voice acting or anything else related to those areas. Please use the comment section below and have your questions to us no later than 5pm PST on January 14th, 2015.  
---
---
Ad blocker interference detected!
Wikia is a free-to-use site that makes money from advertising. We have a modified experience for viewers using ad blockers

Wikia is not accessible if you've made further modifications. Remove the custom ad blocker rule(s) and the page will load as expected.